Local hangouts and coffee shops
If you are looking for new or fashionable cafes, they are sure to be listed in the guidebook, so here we will limit them to local purveyors. Incidentally, in Ebisubashi-suji you can relax at "Dotour Coffee", "Saint Marc Cafe", and "Starbucks Coffee".
Arabiya Coffee (1928) is an old and high quality cafe. Experience time stopping. The proprietor is sociable and actors who perform in Osaka Shochikuza also come here. The mother is Japan's first pro female baseball player. The main branch of Marufuku Coffee (1934) is located in Sakamachi. We recommend you try it if you like rich coffee.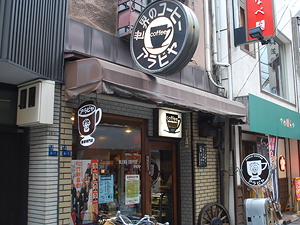 Arabiya Coffee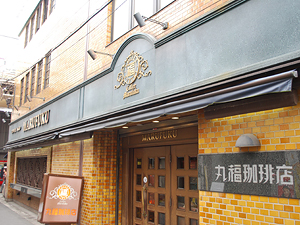 Marufuku Coffee
Located on the north side of Namba Marui there is a "Cafe Street". This area is home to Cafe the Plant Room, which features tea and hand-made cakes, the Namba branch of Eikokuya, a classy cafe, and "mog", which is currently famous for its pancakes, among others.
Recommended eating and drinking spots in Minami