Shopping street History
Overview and history of the shopping street
Overview of the shopping street
| | |
| --- | --- |
| Title | Ebisubashi-suji Shopping District Promotion Association (established April 26, 1989) This shopping street started as the 1913 as the Ebisubashi-suji Coordination Association and then the Ebisubashi-suji Shopping Association before becoming the Shopping District Promotion Association (Incorporated). |
| Number of union members | About 100m |
| Extended distance | About 370m (Distance between Takashimaya Osaka branch to Ebisubashi) |
| Road breadth | About 6m |
| Visitor traffic | Holidays: 80-100 thousand, Weekdays: 60-80 thousand |
| Office | Ōsaka-fu, Ōsaka-shi, Chūō-ku, Nanba, 3−5−17, Hokkyokusei Building 4F |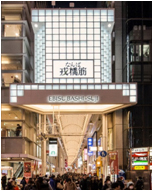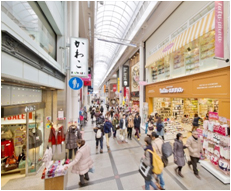 History of the shopping street
Since 1615 when Dotonbori River was complete and Ebisubashi bridge was built, the area has been prosperous as a route for those making pilgrimages to Ebisu shrine praying business prosperity during Toka-Ebisu festival as well as the entryway to theater town, Dotonbori, and it developed as a shopping street at the end of the Edo era.
Entering the Meiji era it developed as the shopping street of the Namba terminal with the completion of the former Hankai Railway (currently Nankai Railway) (1885), the opening of the Namba branch of Takashimaya (1932), the opening of the Midosuji Line Namba Station (1935), and the post-war opening of the Kintetsu Namba Line (1970).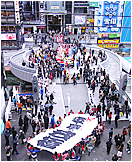 Re-building of the Ebisubashi bridge in the Heisei era
Entering the Heisei era, urban renewal progressed including the opening of Namba Marui and the leading Cinema Complex in Kansai, Toho cinemas Namba(2006), the completion of the newly rebuilt Ebisubashi bridge (2007), the opening of the Hanshin Namba Line (2009), and the redevelopment of the Nankai Terminal Building and the expansion of the Takashimaya Osaka Branch (2010) with the outfitting of the Dotonbori River waterfront (from 2005), the rebuilding of the Toho Nangai Kaikan building.
Casual fashion shops subsequently continued to gather from north to south from Ebisubashi-suji to Shinsaibashi-suji after the H&M Ebisu Branch's opening at Ebisu Kitazume(2010).
From around this time foreign tourists started to increase, and the shopping street began measures to handle the inbound traffic. At the same time, development continued with the cooperation of the Minami area such as summer festivals and light display events to color Dotonbori River in the summer with lights as well as the 400th anniversary of the digging of Dotonbori River in 2015 to convey the charm of the charm.
In the Ebisu Hyakufuku Tales, published in 2013, you can see a detailed history of the shopping street.