Okonomiyaki and takoyaki
Sorry to heve kept you waiting. Now, okonomiyaki and takoyaki.
Okonomiyaki and takoyaki are not eaten so frequently, but they are a part of Osaka's soul food. Most households own a takoyaki cooker which they use to enjoy eating like a party. That is all the more reason that the town restaurants can't cut corners. The abundant varieties of local sauce support the local flour food culture.
Famous shops associated with Minami include "Boteju Sohonke" and "Chibo", but we will introduce local shops that the locals patronize in the Ebisubashi-suji neighborhood.
Let's start with okonomiyaki. "Okaru", found by going a little way into Sennichimae on the east, has posters in the shop that give a sense of Showa era nostalgia. They will bake it soft and steaming for you. "Hatsuse", which is near Namba Grand Kagetsu, has only private rooms. You can also grill it yourself here. Similarly, "Mizuno" in Sennichimae is a shop with good sense run by the 3rd generation daughter which doesn't rely on sauce but focuses on the flavor of the ingredients. Also check their blog which is updated daily. "Ajinoya", located behind Osaka Shochikuza, is another shop spanning 3 generations. Also behind the playhouse on the east side of Ebisubashi-suji is "Tonbe", which has a 30 year career. It features a specialty batter and reasonable prices.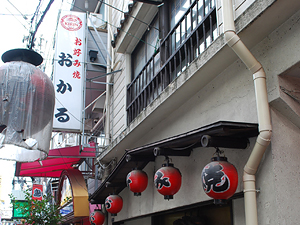 Okaru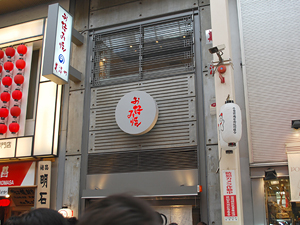 Mizuno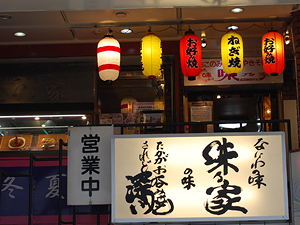 Ajinoya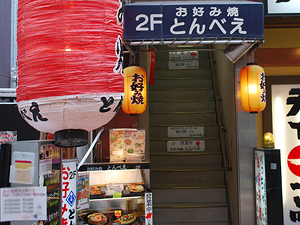 Tonbe
Next is Takoyaki. "Akaoni" is located on the north side of Sennichimae. They are crispy on the outside and juicy on the inside. We recommend the soy sauce flavor. At Miyamoto Shoten in the Sennichimae shopping street please enjoy them with no sauce but just enjoy the dashi flavor. Heading west from Ebisu-minami-zume you will find "Kukuru". "Wanaka", located near Namba Grand Kagetsu, is a former snack shop, and its Namba branch is also located right next to the Ebisubashi-suji shopping street. They use a strong sauce.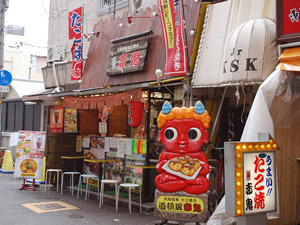 Akaoni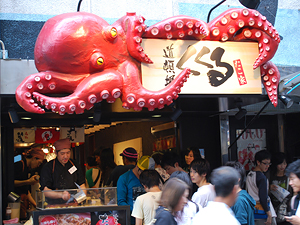 Kukuru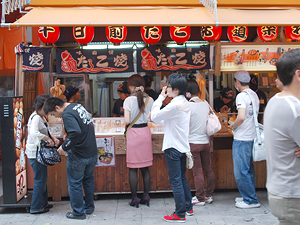 Wanaka
Recommended eating and drinking spots in Minami