Nearby shopping streets and shopping spots
shopping street area sightseeing
Ebisubashi-suji and Shinsaibashi-suji
With a history dating back to the Edo era, they are main street of shopping that runs north to south through Minami with a total length of 1 kilometer. If you come to Minami please try walking from Takashimaya to Daimaru. You will cross the Ebisubashi Bridge along the way, so please take a commemorative photo in front of the Glico sign.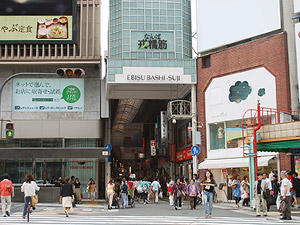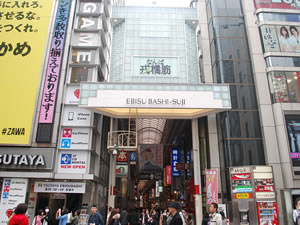 North of Ebisubashi is Shinsaibashi-suji, a dignified shopping street full of refined brands that are beloved by women. South of Ebisubashi is Ebisubashi-suji, a shopping street where Osaka's free and cheerful women enjoy reasonable shopping in a relaxed atmosphere.
Dotonbori/Soemon-cho
The street running east to west on the south side of the Dotonbori River is Dotonbori. Previously a theatre district, currently only Osaka Shochikuza remained, but in July 2017 Shochiku Geino restored "Kakuza". It enlivens the theatre culture of Dotonbori. Dotonbori is also home to many Japanese restaurants, sushi, yakiniku, ramen, flour dishes and other eateries of all sizes. Please try walking around and visiting them. You can also take a commemorative photo in front of the signs or puppets.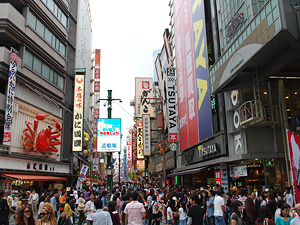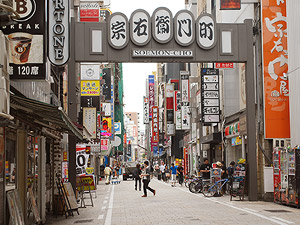 On the other hand, the north side of Dotonbori River is Soemon-cho, where the "burial of electrical wires" and "beautification of stone paving" were completed in March 2013 as an effort to revitalize the street filled with delicious Minami restaurants. Please try peeking in at some of the Soemon-cho-esque shops like Bar Masuda or Kobachi Shunpanro.
Sennichimae/Hozenji temple and the vicinities
The entire area south of Dotonbori and east of Ebisubashi-suji is called Sennichimae. Hozenji Mizukake Fudoson Omotesando, a road leading to the grounds of Hozenji Temple, Hozenji Koisan Street, Hozenji-mae Hondori, etc. run east to west and are filled with restaurants frequented by Osaka locals.
Kuromon Market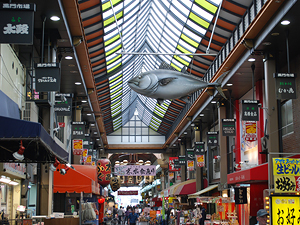 You will be overwhelmed by the fish lined up in the storefronts. Minami restaurants serve as a kitchen for this market, so you will encounter many types and varieties of rare ingredients you can't normally see. Please try strolling through the market.
Nankai-dori street, Sennichimae Doguya-suji
Standing in front of Takashimaya Osaka branch with the entrance to Ebisubashi-suji in front of you, on the right side you will see Nankai-dori, the arcade street. This is a restaurant street for the general public, and it leads to Namba Grand Kagetsu and Doguya-suji. Featuring many restaurants, there are also book stores specializing in cuisine-related books.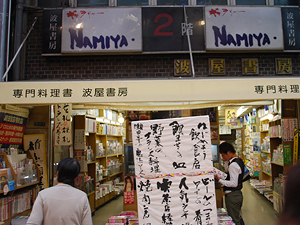 Turning the corner of Nankai-dori and heading along the street between Shochiku Geino Honmaru/Namba Grand Kagetsu and Kamigata Geino's palace Wahha Kamigata you will reach the Sennichimae Doguya-suji shopping street. This arcade street, featuring a large sign reading "道", is filled with restaurants and shops specializing in pro goods. Here you will find shops dealing in kitchen goods, appliances, sign curtains and signboards, costumes, and menu samples which also conduct resale to the general public so please stop by.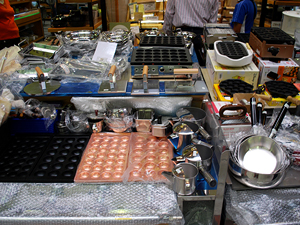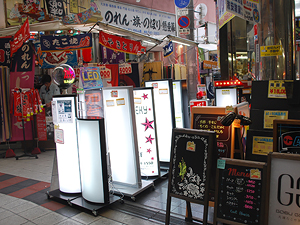 Nipponbashi Denden Town, Ota Road
The street 2 streets to west of Sakai-suji is commonly known as Ota Road. It is an area filled with Otaku type shops such as video games, figures, manga cells, and costumes. It is quite bustling.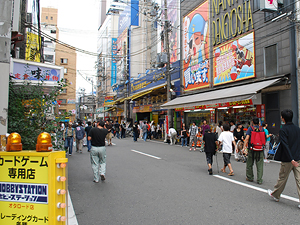 America-mura, Horie, Minatomachi
Heading north on Shinsaibashi-suji from Ebisubashi, turn left onto Suomachi-dori and cross Mido-suji. Continue walking west and you will reach Sankaku Park. This area is America-mura. There are lots of shops facing the streets as well as filling all the floors of the buildings. Continuing beyond America-mura further West you will cross Yotsubashi-suji and enter the Horie district. Its main street, called "Orange Road" features fashionable sundries, boutiques, and cafes. Crossing the Dotonbori River to the west you will reach Minatomachi Riverplace. The building that looks like a spaceship that you will see after crossing Ukiniwabashi bridge, which is only available to pedestrians, is called "Namba Hatch". It is home to a live house with a standing capacity of 1,500 guests and FM Osaka. The plaza there is also used for events on holidays. There is a boat boarding area on the riverside here where cruise boats pass by.
Namba City, Namba Parks
"Namba City" is located in the Nankai Namba Station Building south of Takashimaya Osaka branch and is filled with fashion shops. Further south is "Namba Parks". It is the former location of the Osaka baseball field and there is still a home base embedded in the dirt at the entrance so please try to find it. The roof of Namba Parks is a tiered garden where seasonal flowers bloom.