Spots that let you experience the Naniwa feeling
Famous places and things in Minami
Minami's history and the vitality, sophistication, humor,... individuality and activity of its people express the shape of the town. And its shape is fun just to observe.
Places to experience the Naniwa feeling
Minami is home to small roads and side roads intersecting the streets, history, and delicious shops.
Hozenji Yokocho Street
Hozenji Temple was transferred to Minami in the Edo period. Hozenji Yokocho Street is a place on its grounds where street stalls have been set up. Today on the both sides of stone path small 40 restaurants and bars are lined up. Entering the early Showa period there were 2 vaudeville theaters (Kobaitei and Kanazawatei), and they were called Nanchi Kagetsu after being purchased by Yoshimoto Taizo and his wife. The temple building was destroyed by fire in the Pacific war. The remaining statue of Fudoson came to be beloved and called "Mizukake Fudosan" due to the custom of pouring water ("mizukake" in Japanese) on it to make wishes.
After the war, it became known around the country rapidly through movies and popular songs. The writing on the street's temple gate is by Kanbi Fujiyama on the west side and Katsura Harudanji III on the east side. In 2002 there was a fire here, but the original road was left and restored.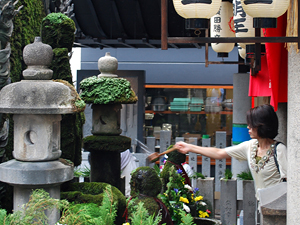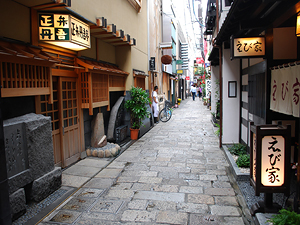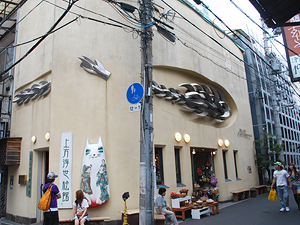 A private art museum located in front of the Hozenji Temple gate. From the latter Edo period until the early Meiji period (the 1800s), it has featured a collection of Ukiyoe woodcuts created mainly in Osaka. There are few paintings of beautiful women and landscapes, with most of the paintings being of actors in Kabuki plays. Unlike the Edo Ukiyo paintings most of which are by famous painters like Utamaro and Hokusai, these do not make the actors look beautiful but instead are drawn to give them a human look. Overseas it is called "OSAKA PRINTS".
Signboards and buildings course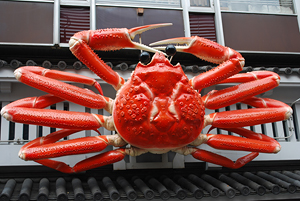 One feature of Minami is that, rather than writing, signboards are made into structures, with lots of neon to be seen. There is great history in these, with the Glico neon sign in its 5th iteration, and the Kani Doraku crab currently the 3rd iteration. There is also an octopus and blowfish. Strolling around looking at the shop signs is sure to lead to discoveries.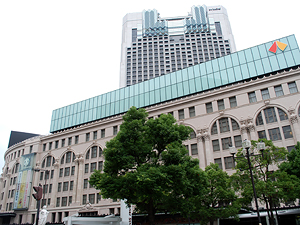 In terms of buildings, two pre-war buildings remain. The Nankai building, which includes Takashimaya Osaka branch, was constructed in 1932. Its exterior was left as is when it was restored in the fall of 2009. The Osaka Shochikuza was created in 1923 as Japan's first Western Style theatre, and its exterior remains the same as that time with the interior renovated. It is host to Kabuki, Shinkigeki plays (comedy), etc.
A new sightseeing spot, "Dotonbori Riverwalk"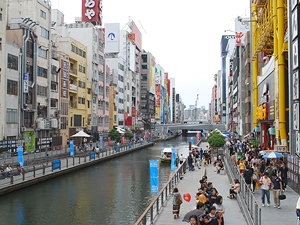 River controls the flow of water with the 2 installed water gates, with the water quality improved to the extent that sweetfish swim in it. However, it does not meet E. coli standards, so please never jump into it. Striving to revive Osaka as the water capital, in 2005 promenades were built on both banks of the river. They were named "Dotonbori Riverwalk", and shops showed up facing the promenades and are now bustling in common Osaka fashion. In front of Don Quijote there is a ship landing where 2 "Tonbori River Cruise" ships depart per hour. The Osaka guide crew will guide you as you enjoy a Dotonbori mini-cruise lasting about 20 minutes.