Spots relating to the arts, music, and movies
Let's experience Minami, the town of the arts, music and movies
Miami is associated with the arts. Try experiencing them buy buying a same-day ticket.
Bunraku, a world cultural heritage, Shochiku Geino, and Yoshimoto Kogyo have Minami as their headquarters.
Most performances are listed on the website, so either get a ticket in advance or confirm if there are same-day tickets by phone. Just like Broadway in New York, the appeal of Minami is being able to enjoy art and theatre during your vacation.
From Bunraku and Plays to Rakugo, and Manzai
The National Bunraku Theatre is about 10 minutes on foot from Ebisubashi-suji. Let's try seeing an exhibition room. You can understand the basics of Bunraku. At the Bunraku theatre there is a ticket called "makumi seat" which lets you try out the theatre experience at a reduced price. Please call the National Bunraku Theatre in the morning to confirm.
If you wish to view Kabuki, OSK Japan Troupe, or plays, please go to "Osaka Shochikuza". It is right next to the north entrance of Ebisubashi-suji. Even if you don't wish to watch a play, it is worth going to simply see Japan's oldest Western style theatre (constructed 1923).
"Torii Hall", where Rakugo, story-telling, plays, etc. are performed on a daily rotating basis, is also recommended. It is about 5 minutes to the east of this shopping street.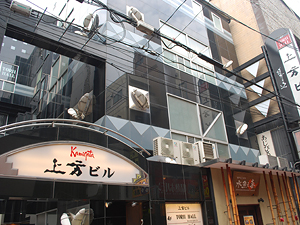 If you wish to see Yoshimoto Shingeki plays or manzai, go to "Namba Grand Kagetsu" or "Yoshimoto Manzai Theatre". They are 3 minutes to the south of Ebisubashi-suji.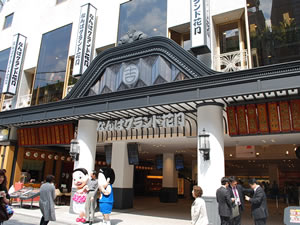 Encounter performers on the streets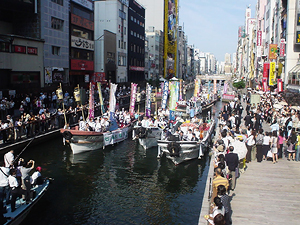 Every year in July at Osaka Shochikuza the "Great July Kabuki" is performed. Right before this, at Dotonbori River the Kabuki actors give speeches at a "boat-boarding" ceremony which is very brilliant.
There is also the parades for announcing the succession of stage names and restaurants which are frequented by performers who are performing at the Shochikuza and Namba Kagetsu, etc. where it is not uncommon to come across a performer.
Minami used to be the capital of jazz.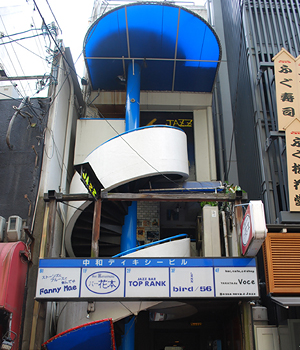 Minami is where musician Ryoichi Hattori studied. And in the Taisho era jazz pros were active in bands. As vestiges of these times, in Minami there are still many places where you can listen to jazz including jazz live houses and bars.
Shops where you can listen to jazz near Ebisubashi-suji
Shop introductions. "Ragtime Osaka", located along Midosuji, is a live house and bar with a sense of status that requires 80 seats. "Bar Wan", located on Hozenji Yokocho Street which is filled with the feel of Naniwa, is a shop with atmosphere. Located directly after entering the rear Shochikuza in the east from Ebisubashi-suji you will find Dixie Building, which is entirely a jazz building. "Bar Hanamoto" on the first floor is an authentic bar with a nice feel that even a woman traveling alone can enter. In Dotonbori there is the long-standing "Saint James", which opened in 1977.
Jazz festival in Minami
In the fall there is a festival called MINAMI JAZZ WALK where a street feel is adopted at many venues in Minami. Check it out before planning your travel schedule.
Experience Minami, the town where the movie business originated.
It would also be nice to hunt for vestiges of movies that are located around Ebisubashi-suji.
Firstly, the place where "TOHO Cinemas Namba" is located at the southern entrance to Ebisubashi-suji is where the movie industry started. Reliefs remain in the rear of the theatre's first floor. In the Sennichimae shopping street there is stone monument to Osaka's first movie company, "Sanyu Kurabu".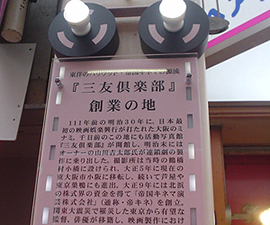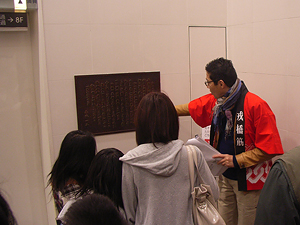 Hozenji Temple is a place that is famous for location shooting for movies and TV dramas and being related to works (2 minutes' walk from Ebisubashi-suji). In Meoto Zenzai (1955), an original work by Sakunosuke Oda, the scene where Hisaya Morishige and Chikage Awashima walk down the side road has appeared recently in the love story "Slow Dance (2005), starring Satoshi Tsumabuki and Eri Fukatsu.
Near the Ebisu area there was the former Kirin Plaza which was shot as a club that appears in "Black Rain (1989)", which was a posthumous work of Yusaku Matsuda and starring Michael Douglas, but unfortunately in 2009 it was rebuilt. In "Dotonbori River (1982)", there is a scene where Keiko Matsuzaka and Hiroyuki Sanada stand on top of Ebisubashi bridge. In "Shiroi Kyoto (2003)", Toshiaki Karasawa and Mayumi Wakamura cross the bridge, and in "Princess Toyotomi (2011)" Aya Tademaru crosses it.